Do you feel guilty about leaving your pets 😿 home alone? Your Pet would love to spend more time with you. Take them to travel the world with our creative Pet backpack carrier. It's time to experience the great outdoors with your lovely pets
😺 !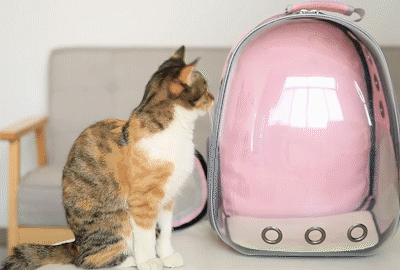 Key Features:
[Superb Quality] - Our pet backpacks are made of high-quality PVC and high-density Oxford cloth. They are portable, light, safe, environmentally friendly, durable, and will keep your fluffy companion safe from harm.
[Stress-free interaction for Pets] - Open view design allows your Pet to feel your calming presence at any time during transport. A smart side entrance allows you to intimately interact with Pets without letting them out, which calms them down during stressful situations such as a bumpy car ride.
[360 Panoramic view] - Innovative transparent design. The see-through capsule allows your pet to enjoy a 360-degree Panoramic viewpoint, really allowing them to see the entire world around them, unlike other claustrophobic "porthole" designs that are on the market.
[Comfort and Security] - Built-in safety belts prevent pets from breaking out of the securely enclosed space, mesh panels and vents, felt pads, top and side entrances keep your babies cool and comfortable while maintaining great air circulation.
[Excellent Fit] - Our pet backpack size is 16.14 x 11.42 x 10.24 inch (H x L x W). Suitable for dogs weighing less than 4.5 kg/9.92lb, cats weighing less than 6kg/13.23lb.
[Satisfaction Guarantee] - If you are not satisfied with this Pet backpack, E-mail us, and we'll arrange a return or refund.